Island wide clean up after Blizzard chaos
Posted Wed 27th March 2013 at 15:39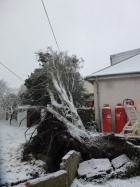 An Island-wide clean up swung into action in Alderney after the worst blizzards in 30 years battered the island.

Gusts of wind of up to 72 miles per hour were recorded at the harbour on March 11th - wind speeds nudged hurricane levels - and inland residents experienced six inches of snow, blown horizontally at wind speeds of 47mph.

The powerful winds, laden with snow, blew a roof off Blanchards' gravel storage building in Platte Saline, caused power failure to homes and felled dozens of trees. Fortunately nobody was hurt and no residential property suffered serious damage.

Now the clear up operation is well underway. More than 50 trees were either blown down in the storm or will be felled to make them safe - a fifth of them on States land. The States, property owners and garden contractors have been hard at work cutting them down and removing them. However with many paths and trails are still blocked, the Wildlife Trust is seeking volunteers to help remove branches and debris from them and cut up wood.


---
Next story: Alderney wins in Monopoly idea
Previous story: Alderney score two goals in Muratti semi final
Current issue 1258 - Nov 11th 2022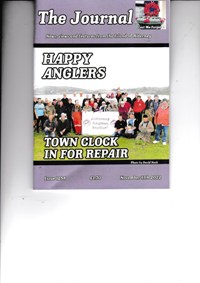 HAPPY ANGLERS
TOWN CLOCK IN FOR REPAIR
Back Issues
Back issues
of the Journal are now available

The Guernsey Bereavement Service has made three visits to Alderney over the past few months and would like to continue to help you. We are visiting the island again on Tuesday, 12th November 2013 and would invite anyone who feels they would like Bereavement Counselling to telephone the Bereavement Service Office on 257778 to make a time to meet one of our counsellors.

What's on in Alderney

, ,

, ,
Journal all over the World

Great Wall photo wins picture prize
Things to do in Alderney
Contact details of Alderney Clubs and Societies