Water shut off Wed 19th Ded
Posted Wed 19th December 2012 at 09:35
The States Engineer has announced a water shut off on Wednesday 19th between 1pm and 4.30pm.

The areas affected will be: Coastguards, Nunnery, States Public Toilets, The Old Barn, Longis Bay Nurseries and Longis Bay Guest House.

Also affected will be properties on Longis Common, Les Boufresses, La Cachette, Mannez including the Lighthouse, Fort Corbletts and the Laundry.

Rurther areas affected include White gates, Saye Farm, Campsite and Chateaux Le Tocq.

his shut-off is to allow the Water Board to repair a leaking main in the Whitegate`s area.




---
Next story: Saye Campsite overspend revealed
Previous story: Beehives theft from Longis
Current issue 1283 - Nov 17th 2023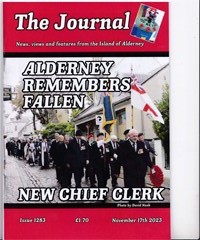 ALDERNEY REMEMBERS FALLEN
NEW CHIEF CLERK
Back Issues
Back issues
of the Journal are now available

The Guernsey Bereavement Service has made three visits to Alderney over the past few months and would like to continue to help you. We are visiting the island again on Tuesday, 12th November 2013 and would invite anyone who feels they would like Bereavement Counselling to telephone the Bereavement Service Office on 257778 to make a time to meet one of our counsellors.

What's on in Alderney

, ,

, ,
Journal all over the World

Great Wall photo wins picture prize
Things to do in Alderney
Contact details of Alderney Clubs and Societies