Race yacht crew in dramatic night time rescue
Posted Tue 17th July 2012 at 11:59

A RACE-winning yacht crew had to be rescued from choppy seas off Alderney after the rudder became detached from their boat.

The seven-strong crew was racing their 38ft yacht, Vixter, from Cowes to St Malo when they ran into difficulty three miles south west of Casquets Lighthouse.

The team, which came first in its class in the Round the Island race at the Isle of Wight in June, had only acquired the £200,000 XP38 boat four months ago.

'The water was pretty choppy and the wind was gusting at up to 24 knots," said Paul Alder, an internet consultancy director based in Nice.

'We started having steering problems and then realised that the rudder had dropped out. Then the boat started taking in water. I started calling Pan Pan on the radio while we tried to get the water out. We had three pumps going and we were bailing by hand as well. It was quite dramatic.

'The French coastguard initially answered the call, then it went to Guernsey and they passed it to Alderney.'

Alderney's RNLI lifeboat Roy Barker I launched at 1.10am and was alongside the stricken yacht at 1.55am. They found the crew with kitbags packed in case they had to abandon the vessel. RNLI crews attached a towline to the boat to pull it into Braye Harbour, and they arrived into it about 4.30am. Mr Alder said: 'One of the crew members was a bit seasick and we were still taking in water, so we came ashore. Harbourmaster Mark Gaudion arranged for the crew, the youngest of whom are in their early 20s, to bed down in Alderney Sailing Club clubhouse.


---
Next story: Guernsey eyes Alderney's e-gaming cash
Previous story: Alderney snubbed over Olympic Torch relay - so AW steps in
Current issue 1231 - Oct 15th 2021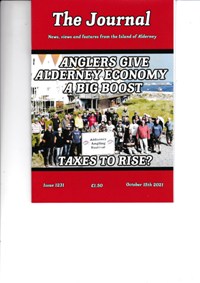 Anglers Give Alderney Economy A Big Boost
Taxes To Rise?
Back Issues
Back issues
of the Journal are now available

The Guernsey Bereavement Service has made three visits to Alderney over the past few months and would like to continue to help you. We are visiting the island again on Tuesday, 12th November 2013 and would invite anyone who feels they would like Bereavement Counselling to telephone the Bereavement Service Office on 257778 to make a time to meet one of our counsellors.

What's on in Alderney

, ,

, ,
Journal all over the World

Great Wall photo wins picture prize
Things to do in Alderney
Contact details of Alderney Clubs and Societies