Alderney FC president steps down
Posted Tue 17th July 2012 at 11:38
ALDERNEY Football Association's president is stepping down after eight years in the role.

Keith Webster is retiring after 22 years of involvement with the club and the move will coincide with retirement from his day job as Breakwater Supervisor.

He said he had not taken the decision to step down lightly.

'It just seems to me that, with retirement beckoning, the time is right,' he explained.

The most pressing issue faced by his successor, Glaswegian James Maxwell, was generating the funds to keep the club going, he said.

The club spent £12,000 on flights during the last season, despite the loss of several sponsors - and if planned changes to the league were made, that figure could rise to £16,000.

'I've sat through many a sombre meeting at the clubhouse when the very existence of the AFA has been seriously in doubt,' said Mr Webster. 'But somehow - and this is mainly thanks to the tireless efforts of some remarkable people - we have always managed to find a way through to the end of the season.'

He said he hope such financial resilience continued, but admitted that in the current climate it got harder by the day.

'We have lost some major sponsors in the past year or so and the current fiscal climate makes replacing them a very difficult task indeed. Our costs simply cannot be met by traditional jumble sales and raffles alone. 'My successor must be a professional beggar, an optimist, a diplomat and a visionary. But above all, he must have a very real understanding of just how important the Alderney Football Association is to the youth of the island and indeed, to the island itself.'

He added: 'Fortunately however we may have found just the man, and I wish him and everybody else involved in the AFA all the very best of luck for the seasons ahead.'


---
Next story: Alderney snubbed over Olympic Torch relay - so AW steps in
Previous story: New Wombles exhibit opens doors in Alderney
Current issue 1231 - Oct 15th 2021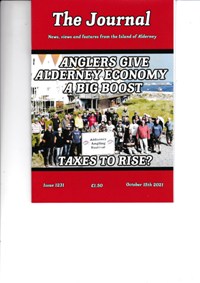 Anglers Give Alderney Economy A Big Boost
Taxes To Rise?
Back Issues
Back issues
of the Journal are now available

The Guernsey Bereavement Service has made three visits to Alderney over the past few months and would like to continue to help you. We are visiting the island again on Tuesday, 12th November 2013 and would invite anyone who feels they would like Bereavement Counselling to telephone the Bereavement Service Office on 257778 to make a time to meet one of our counsellors.

What's on in Alderney

, ,

, ,
Journal all over the World

Great Wall photo wins picture prize
Things to do in Alderney
Contact details of Alderney Clubs and Societies