ARE chief exec steps down
Posted Wed 23rd May 2012 at 14:18
PAUL Clark has stepped down as chief executive at Alderney Renewable Energy.

He has moved aside to allow energy industry heavyweight Nick Horler take over at the helm as his interim replacement.

Nick Horler, who became a non executive director at ARE around nine months ago, is the former chief executive of Scottish Power - one of the so-called "big six" British energy suppliers.

Declan Gaudion, who co-founded the business in 2003, remains a full time executive director while Mr Clark will supply consultancy services when needed.

Mr Clark said the business had grown to the point where someone of Mr Horler's specialist expertise was vital to boost it further.

Before joining Scottish Power Newcastle-born Mr Horler was managing director of retail at E-on. Prior to that he spent 12 years at Philips, one of America's 'big five' oil giants.

'It is good for ARE and good for Alderney to have someone of Nick's experience and calibre taking the helm,' said Mr Clark.

'I came up with the concept with Declan in 2003, so the company is approaching its 10 year anniversary. Gaining the support of the British and French governments through signing agreements in Paris in February was a milestone, as was having had the support of the British Government through the visit of energy minister Charles Hendry last month.

'That was a good point to think, what's best going forward? We had got it to a point where it needed someone with Nick's energy experience to take it to the next level. In terms of industry experience and knowledge Nick is a Premier League striker. He has a total understanding of the industry. I am still involved as a consultant so that the knowledge I have will be used as and when it is needed.'

He said he was not stepping down with sadness - on the contrary, he said.

At any point in time you make these decisions and it's a positive decision. I'm not going away with sadness, I'm stepping away with pride at where our project has got to.

Mr Clark will retain a substantial number shares in ARE. There are four other shareholders - including Mr Gaudion - and marine turbine manufacturer Open Hydro purchased a stake of around 20 per cent in the company in 2008.


---
Next story: Salvation Army couple pack up their kit bag
Previous story: Controversy over Platte Saline housing plan
Current issue 1284 - Dec 1st 2023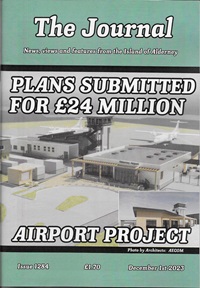 PLANS SUBMITTED FOR £24 MILLION AIRPORT PROJECT
Back Issues
Back issues
of the Journal are now available

The Guernsey Bereavement Service has made three visits to Alderney over the past few months and would like to continue to help you. We are visiting the island again on Tuesday, 12th November 2013 and would invite anyone who feels they would like Bereavement Counselling to telephone the Bereavement Service Office on 257778 to make a time to meet one of our counsellors.

What's on in Alderney

, ,

, ,
Journal all over the World

Great Wall photo wins picture prize
Things to do in Alderney
Contact details of Alderney Clubs and Societies