Flying vet seeks asylum
Posted Mon 6th December 2010 at 13:51
Eccentric flying vet Maurice Kirk is seeking asylum in Alderney.

Mr Kirk, who worked in Alderney for four years in the 1980s, submitted a letter to the island's States last week.

The 65-year-old former Guernsey resident hopes the Bailiwick will stop him being deported to Wales, as he believes police there are planning to shoot him.

Mr Kirk's handwritten letter said: "I apply for asylum as a subject under severe police oppression in the Principality of Wales."

States chief executive Roy Burke said: "I have received a letter from Mr Kirk which I will consider and pass to the relevant authorities."

Colourful Mr Kirk, who currently lives in Brittany, France, is no stranger to controversy. In 2008 he was admitted to a psychiatric hospital in Texas after landing a light aircraft near George W. Bush's ranch. He was trying to thank the American President after the US Coast Guard fished him out of shark-infested Caribbean waters. Last year Mr Kirk hit the headlines after going on hunger strike at Cardiff Prison. He was protesting at not being allowed to attend court. And in 2002 Mr Kirk was struck off by the Royal College of Veterinary Surgeons for "disgraceful" conduct.

Qualified pilot Mr Kirk, who has taken part in numerous aviation expeditions, became well known locally after protesting outside Guernsey's Royal Court in a Nazi uniform and for being involved in numerous legal battles.

Mr Kirk, a former drinking partner of the late Oliver Reed, detailed his current concerns to The Journal.

"I'm applying for asylum because I have had the good fortune of receiving internal memos from meetings in South Wales Police which said there was a serious risk I'd be shot if I approached the chief constable.

"I'm asking for protection from an extradition order to be transferred to a psychiatric prison in Wales. There's a warrant out for my arrest at the moment, but of course that will be nonsense."

Mr Kirk is currently suing South Wales Police after alleging he's been the victim of a large number of incidents where the force has wrongly stopped, arrested or prosecuted him. He also claims police failed to protect him or his property.

Mr Kirk said: "They want to kill me as the damages are enormous."

Mr Kirk said he had received a warm welcome from old friends in Alderney.

"I've always called Alderney the centre of the universe. I worked here as a vet for four years and I bought the odd cigarette and bucket of brandy. I've been here since last night and haven't had a drink yet - I can't believe it.

"I'm hoping my fond memories of this place will not be shattered. I keep meeting old people I recognise; old clients and so on. The women have been kissing me, so at the moment I'm on a high; I'm enjoying Alderney."

Mr Kirk went on to say he was concerned about reports the island had changed.

"I'm hearing there's been terrible influx and that the real old boys and girls are dying off. I can sense it's a sleepy town and there's a lot of recession here at the moment.

"You have less people coming back from the territories to retire. When I was a vet here everyone was either an ex governor or from the military or navy. There were people from Tanzania, Hong Kong and Singapore."

A spokesman for South Wales Police declined to respond to Mr Kirk's allegations.


---
Next story: Arditti & Kelly top poll
Previous story: Four stand for Guernsey roles
Current issue 1283 - Nov 17th 2023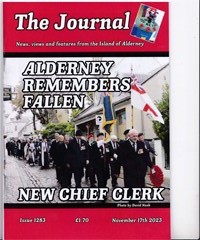 ALDERNEY REMEMBERS FALLEN
NEW CHIEF CLERK
Back Issues
Back issues
of the Journal are now available

The Guernsey Bereavement Service has made three visits to Alderney over the past few months and would like to continue to help you. We are visiting the island again on Tuesday, 12th November 2013 and would invite anyone who feels they would like Bereavement Counselling to telephone the Bereavement Service Office on 257778 to make a time to meet one of our counsellors.

What's on in Alderney

, ,

, ,
Journal all over the World

Great Wall photo wins picture prize
Things to do in Alderney
Contact details of Alderney Clubs and Societies