Sgt Priest's hearing delayed again
Posted Tue 17th August 2010 at 16:06
A hearing into the conduct of Alderney's suspended police sergeant has been postponed for a third time.

Sgt James Priest, who was suspended in April for a non-criminal matter, was due to be tried on dates in May, June and August.

The Journal understands the hearing - which will be held in private after Guernsey Police barred the media - will now take place in September.

Guernsey Police's media liaison officer was unavailable for comment.

Guernsey Police's Professional Standards Department began investigating Sgt Priest last October following a complaint by a member of the public.

Sgt Priest has led Alderney Police since January 2009. During his tenure arrests have increased while crime has fallen. He has also introduced neighbourhood policing to the island.
---
Next story: Fisherman slates States members
Previous story: Sizzler's Alderney airline plan
Current issue 1283 - Nov 17th 2023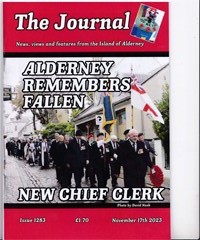 ALDERNEY REMEMBERS FALLEN
NEW CHIEF CLERK
Back Issues
Back issues
of the Journal are now available

The Guernsey Bereavement Service has made three visits to Alderney over the past few months and would like to continue to help you. We are visiting the island again on Tuesday, 12th November 2013 and would invite anyone who feels they would like Bereavement Counselling to telephone the Bereavement Service Office on 257778 to make a time to meet one of our counsellors.

What's on in Alderney

, ,

, ,
Journal all over the World

Great Wall photo wins picture prize
Things to do in Alderney
Contact details of Alderney Clubs and Societies