Volcanic ash cloud closes airport
Posted Thu 15th April 2010 at 17:12
An ash cloud drifting south from an erupting volcano in Iceland has caused Alderney Airport to close.

Airport manager Keith Webster said flying would be halted in and out of the island until at least 6pm this evening.

The 2.45pm Aurigny flight to Guernsey set off shortly before 1pm. It landed at 1.13pm but looks as if it will be the last flight of the day in the Bailiwick.

All three Channel Islands airports closed at 1pm. Passengers are being advised to contact airlines directly for more information. Despite the closures, both Alderney and Guernsey will remain open for emergency and medical flights.

Guernsey Met Office has said the main part of the ash cloud was due to arrive in the Channel Islands this evening. As a result, passengers are being told to expect disruption until Friday afternoon.

UK airspace was closed earlier today, along with numerous areas of Scandinavia. Airports in the mainland will be closed until 1am on Friday at the earliest.

Airspace has been closed due to concerns that the ash could clog up aircraft engines.
---
Next story: Alderney needs £2m to build leisure centre
Previous story: Money matters debated at meeting
Current issue 1284 - Dec 1st 2023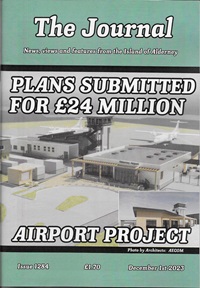 PLANS SUBMITTED FOR £24 MILLION AIRPORT PROJECT
Back Issues
Back issues
of the Journal are now available

The Guernsey Bereavement Service has made three visits to Alderney over the past few months and would like to continue to help you. We are visiting the island again on Tuesday, 12th November 2013 and would invite anyone who feels they would like Bereavement Counselling to telephone the Bereavement Service Office on 257778 to make a time to meet one of our counsellors.

What's on in Alderney

, ,

, ,
Journal all over the World

Great Wall photo wins picture prize
Things to do in Alderney
Contact details of Alderney Clubs and Societies