Alderney's traffic lights prank
Posted Thu 8th April 2010 at 21:12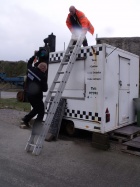 Suspected pranksters uprooted Alderney's only pair of traffic lights before putting them on top of a burger van.

The temporary lights were taken from Whitegates some time between 10.30pm last Monday and 7.30am the following morning, before being placed on top of Little Rock Cafe, in Braye Harbour.

Alderney's harbourmaster, Steve Shaw, reported the incident after seeing the lights on the van, which belongs to Krys Page.

The police then got in touch with John Donaldson, known locally as Wingy, to take the lights down and return them to Whitegates.

With the help of PC Malcolm Messenger, Mr Donaldson removed the lights from the van's roof and quickly got them working again.

Local drivers have become frustrated with the lights since they were put up to calm traffic while the demolition of properties in Whitegates takes place. Alderney motorists are not familiar with traffic calming measures as there are no permanent lights, roundabouts or speed bumps in the island.

Mr Donaldson, foreman of local firm Jackie Main Building Contractors, said it appeared the lights had been taken as a joke as no damage was caused.

PC Messenger, of Alderney Police, said: "It is estimated the lights were taken some time between 10.30pm on Monday night and 7.30am on Tuesday morning.

"Enquiries into the incident are ongoing. Any witnesses or those with information should get in touch."

No major traffic incidents were reported in the Whitegates area during the time the lights were missing.

Anyone with information about the lights should contact Alderney Police on 824999.
---
Next story: Thieves steal 500 litres of heating oil
Previous story: Drive slowly in St Anne today
Current issue 1283 - Nov 17th 2023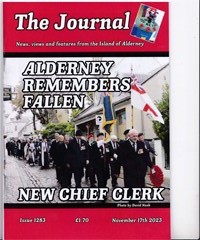 ALDERNEY REMEMBERS FALLEN
NEW CHIEF CLERK
Back Issues
Back issues
of the Journal are now available

The Guernsey Bereavement Service has made three visits to Alderney over the past few months and would like to continue to help you. We are visiting the island again on Tuesday, 12th November 2013 and would invite anyone who feels they would like Bereavement Counselling to telephone the Bereavement Service Office on 257778 to make a time to meet one of our counsellors.

What's on in Alderney

, ,

, ,
Journal all over the World

Great Wall photo wins picture prize
Things to do in Alderney
Contact details of Alderney Clubs and Societies