Member ejected from States meeting
Posted Thu 18th March 2010 at 12:54
Peter Allen was ejected from Wednesday's States meeting amid chaotic scenes at the Courthouse.

Mr Allen reacted furiously to a report made by Colin Williams on the New Connaught Care Home and had to be ordered to leave by States President Sir Norman Browse.

Speaking at the end of the meeting, which was attended by the Lieutenant Governor, Sir Fabian Malbon, Mr Williams criticised local building firms for refusing to pay for professional indemnity insurance - which is required by contractors working on the £2.1m project.

He also slammed a local contractor for failing to tender for a section of the job while offering labourers at an hourly rate of £25 each. Furthermore, Mr Williams said the Le Val site was closed on Tuesday due to a work permit issue, following an application which was made two months ago.

Guernsey-based builders JW Rihoy's controversially won the Connaught contract last year, ahead of two Alderney firms. Work began on the site in January but was halted after parts of the groundwork filled with water.

Angry Mr Allen said Mr Williams had no right to criticise local builders before being thrown out.

As he left the Courthouse, electrician Mr Allen said: "I'm happy to leave. That is an absolute scandal. To slag off Alderney builders is terrible. My apprentice could have designed that site."

Speaking after the meeting, Mr Allen said: "The fact he [Mr Williams] intimated that local firms aren't up to the job is a joke.

"He suggested firms here couldn't get the insurance because of the design or that the insurance was too expensive. I was trying to make the point that an electrical apprentice will often be given, for his exam, a building of larger scale than the new care home, so to say we haven't got people up to the job is nonsense."

Mr Allen was also outraged that members were prevented from debating the report.

"It was a disgraceful propaganda speech and the worst thing is nobody is allowed to reply to it because it is a report.

"The fact Mr Williams could say what he likes without a reply is shocking. A report should contain facts, not be sprinkled with gossip, half truths and hearsay. Mr Williams quoted hearsay as fact and it's not.

"A report should be precisely that but Mr Williams uses them as a political platform. He's allowed to say what he likes with no comeback. The rules on reports need to be looked at seriously."

Sir Norman said statements read at States meetings were not open for discussion. He went on to apologise for having to throw Mr Allen out.

Also speaking after the meeting, Mr Williams said: "I feel very sorry for Peter Allen. He said his apprentice could have designed it and he's probably right. However, is his apprentice insured in case anything goes wrong?

"My main concern is that the site is closed. If this project overruns it will be me who gets it in the neck."

Also at the meeting, former Guernsey harbourmaster Captain Robert Barton was appointed to the Alderney Commission for Renewable Energy. Furthermore, members agreed that transcripts and recordings of States meetings could be made available to the public for the first time.
---
Next story: Drive slowly in St Anne today
Previous story: Water work forces road closure
Current issue 1283 - Nov 17th 2023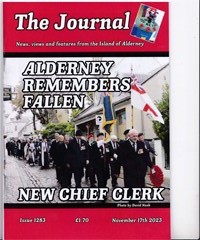 ALDERNEY REMEMBERS FALLEN
NEW CHIEF CLERK
Back Issues
Back issues
of the Journal are now available

The Guernsey Bereavement Service has made three visits to Alderney over the past few months and would like to continue to help you. We are visiting the island again on Tuesday, 12th November 2013 and would invite anyone who feels they would like Bereavement Counselling to telephone the Bereavement Service Office on 257778 to make a time to meet one of our counsellors.

What's on in Alderney

, ,

, ,
Journal all over the World

Great Wall photo wins picture prize
Things to do in Alderney
Contact details of Alderney Clubs and Societies