Double tragedy for vet's family
Posted Thu 12th November 2009 at 18:33
This story appeared in the October 24 issue of The Journal. It has been uploaded to the website following several enquiries about Clifford Wannop and Hazel Barker.

The family of missing islander Clifford Wannop has been hit by further devastation.

Pensioner Mr Wannop, 83, has been missing since October 2 after failing to return from a short walk in the Isle of Skye, off the Scottish west coast.

Extensive searches for the retired vet were stood down more than a week ago. Three mountain rescue teams, two helicopters, search dogs, lifeboat crews and coastguards have all been involved in efforts to trace Mr Wannop, who was holidaying in the area with his 80-year-old sister Joyce Morley.

In a further tragic twist, it has now been revealed that Mr Wannop's niece, who had lived with him since 1997, died suddenly just four days after he was reported missing.

Hazel Barker, who had taken care of Mr Wannop since his wife, Grace, died in 2003, was flown to hospital in Southampton two weeks ago after feeling unwell. Friends of the 65-year-old say she suffered an aneurism and died on arrival.

Speaking last week from the Isle of Skye, Mr Wannop's son, Winston, said Ms Barker's death had shocked the family.

"The story about Hazel is even worse [than my father's disappearance]. We just cannot stand it. She was in Guernsey when she heard about my father and just wanted to go home. I spoke to her when she got back to Alderney and she was extremely worried. She said she couldn't stop shaking.

"Then last Tuesday she was with a friend and felt ill. She was flown to hospital in Southampton but nothing could be done."

Mr Wannop, 48, who lives in Cambridge, paid tribute to his cousin.

"Hazel was delightful and made a wonderful life for herself in Alderney. She had a fantastic sense of humour and dealt brilliantly with looking after elderly relatives.

"When my mother died my father decided to remain in Alderney but he wouldn't have been able to do that without Hazel staying with him."

Mr Wannop said he and his brother Nick are baffled as to their father's whereabouts.

"The path where my father walked loops about 4.8 miles. It is trivial by his standards, because he's very fit for his age. There's also a clear Land Rover path where he walked with no branches off it.

"I am more than 90 per cent certain that he walked off the loop and missed the turning to the hotel. The hotel looks different when you walk down the loop so it's extremely possible he passed it while the wind was blowing and there was rain on his glasses.

"This is the most likely scenario because all the things which were much more likely have been rigorously pursued. If he was still in the area he would have had to burrow to not be found and I don't think that's the case."

Mr Wannop said his father's disappearance had even confused locals.

"Even the locals are hypothesising that if he had got onto the road it could have been a hit and run but there's no evidence to suggest this. It must have been spontaneous but it's a mystery. Everyone's baffled."

Despite the gloomy outlook, the Wannops are determined to stay positive.

"We have to believe," said Mr Wannop. "It is not particularly reassuring because if he has not been seen for over a week one can only imagine it is for some bad reason.

"However, we have to make new theories now. It is my view that he is very unlikely to be in the area and many of the search team believe that as well. We have searched the only possible areas which could hide him and we've nothing to show for it."

Sergeant Richard Baird, of the Northern Constabulary, said: "We have a number of lines of inquiry to follow up based on Mr Wannop's financial background and his employment, family and friends.

"There is also an intensive campaign in the local area continuing to establish whether there have been any sightings of him on local transport like buses and ferries or in any of the neighbouring villages."

Mr Wannop praised the emergency services.

"The response has been quite humbling. All the professionals and volunteers have done everything they can. I am currently trying to get everyone I know to donate something to the rescue teams up here as the job they do is amazing."

Mr Wannop urged people to visit www.skyemrt.org and make a donation.

On Tuesday Mr Wannop said there was still no news regarding his father's whereabouts. He also revealed police in Skye stopped cars in the Kinloch area last Friday night in an effort to jog people's memories regarding the time Clifford disappeared.

Anyone with information about Clifford Wannop should call 01478 612888 or contact Crimestoppers on 0800 555111.

As of November 12, Mr Wannop has still not been found.
---
Next story: New nurse starts at Animal Welfare
Previous story: Quay nightmares for States member
Current issue 1283 - Nov 17th 2023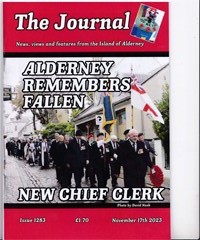 ALDERNEY REMEMBERS FALLEN
NEW CHIEF CLERK
Back Issues
Back issues
of the Journal are now available

The Guernsey Bereavement Service has made three visits to Alderney over the past few months and would like to continue to help you. We are visiting the island again on Tuesday, 12th November 2013 and would invite anyone who feels they would like Bereavement Counselling to telephone the Bereavement Service Office on 257778 to make a time to meet one of our counsellors.

What's on in Alderney

, ,

, ,
Journal all over the World

Great Wall photo wins picture prize
Things to do in Alderney
Contact details of Alderney Clubs and Societies