Rough seas could hamper Nomads
Posted Thu 30th July 2009 at 10:32
Adverse weather conditions could affect Bavaria Nomads' chances of competing against teams in Guernsey.

The Alderney-based football team recently announced they will struggle to complete next season after clubs in Guernsey's County League second division voted to play each other three times a season instead of twice.

At the same time the clubs decided they couldn't afford an extra trip to Mount Hale, meaning Nomads would have to foot the bill for an extra seven trips to Guernsey per season.

Keith Webster, president of Alderney Football Association, said the extra games will cost Nomads £5,000 and that there is only enough cash in the kitty to stay in the league until January.

In order to aid Nomads, the Guernsey Football Association's fixtures secretary, Garry Cortez, arranged for the side's first four games to be played in Guernsey, so the side could travel by boat.

However, if sailing conditions are poor, Nomads may be forced to forfeit games.

Mr Webster said: "Our first game is on August 22. We intend to travel by boat to our early away fixtures but it's a high risk strategy. If, on the day, it's too rough then we don't have the time to re-book air tickets. So we would have to abandon the game. Guernsey Football Association will get very annoyed if we do this on a regular basis."

Mr Webster also said nobody had come forward to sponsor the side for the extra money needed to complete the 2009/10 season.
---
Next story: Paul wants more posters
Previous story: Surprise, surprise it's Alderney Week
Current issue 1248 - Jun 24th 2022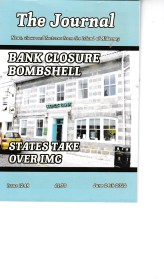 BANK CLOSURE BOMBSHELL
STATES TAKE OVER IMC
Back Issues
Back issues
of the Journal are now available

The Guernsey Bereavement Service has made three visits to Alderney over the past few months and would like to continue to help you. We are visiting the island again on Tuesday, 12th November 2013 and would invite anyone who feels they would like Bereavement Counselling to telephone the Bereavement Service Office on 257778 to make a time to meet one of our counsellors.

What's on in Alderney

, ,

, ,
Journal all over the World

Great Wall photo wins picture prize
Things to do in Alderney
Contact details of Alderney Clubs and Societies