States and ACRE move to clear up confusion
Posted Wed 4th March 2009 at 09:00
Claims that Alderney has leased its seabed for a pittance have been rejected.

Finance Advisory Group chairman Colin Williams and Alderney Commission for Renewable Energy (ACRE) chairman Gordon Fitton released a joint statement on Tuesday to allay islanders' fears following a report by video journalist David Earl on BBC Spotlight.

Mr Earl's piece included Rob Hastings saying the UK Crown Estate expects to receive two per cent of the value of the electricity generated from its offshore wind farms and other forms of renewable energy.

The news caused panic among islanders after ACRE signed a deal with developers Alderney Renewable Energy (ARE) last year to lease half of the island's territorial waters in return for one per cent of the sales value of electricity generated.

In a joint statement, Mr Williams and Mr Fitton said: "The presenter on BBC Spotlight last week commented that the Crown Estate receives a two per cent tariff on the electricity produced by renewable generators. Two per cent of what?

"The Crown Estate does not have a tariff for tidal energy generation yet. We understand they are just starting the tendering process for tidal concessions. What they have is a tariff for offshore wind farms, i.e, 88p per megawatt hour, plus RPI. This is 0.088p per unit (i.e. one kilowatt hour). This was the figure used by ACRE and ARE as the basis for the December 2005 agreement.

"UK electricity is traded in the market like any other commodity, so its selling pricevaries from day to day. However, to yield a two per cent tariff based on 88p per megawatt hour, the selling price would be 4.5p per unit. At present renewable energy costs something like 12p per unit to generate.

"The Alderney royalty is one per cent of the sales value. The feed-in price to the French grid for tidal energy is ?150 per megawatt hour. At current exchange rates this is about 13p per unit. Thus a one per cent tariff yields £1.30 per megawatt hour against the Crown Estate's 88p."

Mr Williams and Mr Fitton went on to reveal Alderney's agreement will be reviewed every three years.

"The Alderney tariff is reviewed every three years and will up for review in 2011 before any electricity has been generated.

"As the agreement with ARE states, both parties agree that the tariff will be set by having regard to both the Crown Estate model and to the tariffs in the relevant export markets, which in the first instance is likely to be France.

"This means that if higher tariffs are achieved elsewhere, we can renegotiate.

"Meanwhile, we are in contact with the Crown Estate and await their written answer to the question: two per cent of what?"
---
Next story: First £1m home sold in Alderney
Previous story: Your work permit questions answered
Current issue 1284 - Dec 1st 2023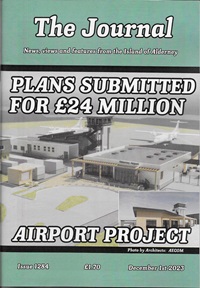 PLANS SUBMITTED FOR £24 MILLION AIRPORT PROJECT
Back Issues
Back issues
of the Journal are now available

The Guernsey Bereavement Service has made three visits to Alderney over the past few months and would like to continue to help you. We are visiting the island again on Tuesday, 12th November 2013 and would invite anyone who feels they would like Bereavement Counselling to telephone the Bereavement Service Office on 257778 to make a time to meet one of our counsellors.

What's on in Alderney

, ,

, ,
Journal all over the World

Great Wall photo wins picture prize
Things to do in Alderney
Contact details of Alderney Clubs and Societies