Water restrictions lifted
Posted Tue 21st October 2008 at 10:20
The island's water restrictions are to be lifted on November 1.

Frank Dean, the States member responsible for water, said the General Services Committee unanimously approved the measure earlier this week.

Mr Dean said: "I indicated that the lifting of the restrictions may be possible at the people's meeting in July and with our storage now well above the five-year average we need to move forward.

"Phase one of the water project is now in progress and as we work on the design of phase two, it is essential we have our current true consumption figures so we are able to project the loading for the plant. However, it is imperative the community does not jump the gun. The restrictions remain in place until they are lifted on November 1."

Mr Dean added: "We can reasonably expect that we are going into a period of wetter weather which offers support to our decision. It will also allow the community to do household tasks that have been denied to them.

"I ask people to continue to apply restraint in the usage and to continue to take care not to waste our reserves."
---
Next story: States spends £1,500 on chicken cull
Previous story: Chickens face firing squad
Current issue 1284 - Dec 1st 2023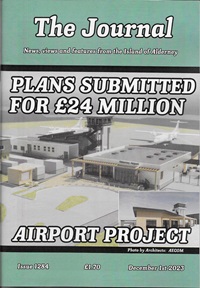 PLANS SUBMITTED FOR £24 MILLION AIRPORT PROJECT
Back Issues
Back issues
of the Journal are now available

The Guernsey Bereavement Service has made three visits to Alderney over the past few months and would like to continue to help you. We are visiting the island again on Tuesday, 12th November 2013 and would invite anyone who feels they would like Bereavement Counselling to telephone the Bereavement Service Office on 257778 to make a time to meet one of our counsellors.

What's on in Alderney

, ,

, ,
Journal all over the World

Great Wall photo wins picture prize
Things to do in Alderney
Contact details of Alderney Clubs and Societies