Deadline set for by-election nominations
Posted Mon 22nd September 2008 at 10:01
Islanders wanting to stand at an upcoming by-election must be nominated by Tuesday, September 30.

The States has arranged a by-election for Saturday, October 11 to fill the seat vacated by Richard Cox in May.

Those who wish to offer themselves for election must submit their nominations to chief executive David Jeremiah during the seven-day period ending September 30. The nomination list will close at 4pm on that day.

In a change to the original practice, the names of candidates will be released as soon as they have been nominated.

Mr Jeremiah told the Journal the law makes no provision for not releasing details of candidates and is silent on the question of whether nominations may be made public when received.

He said: "I have looked at the law and practice elsewhere, including in Guernsey. In Guernsey, where the law is also silent on the point, the practice is to post details of candidates and those who nominate them on the notice board at the Royal Court as and when they are received. I will be adopting the same practice in Alderney ? using the notice board in the Island Hall for the purpose."

An original by-election, scheduled for June 28, failed to attract any candidates. It was the second time in 12 months a by-election had not enticed anyone to stand.

In July, Frank Dean suggested the States issue a job description to help encourage candidates to come forward, while Bill Walden said islanders were being put off standing by "destructive and irresponsible reporting".

Mr Cox resigned from the States in order to take a PhD at King's College, London.
---
Next story: Cruel blow for airport chickens
Previous story: States members could be paid salary
Current issue 1284 - Dec 1st 2023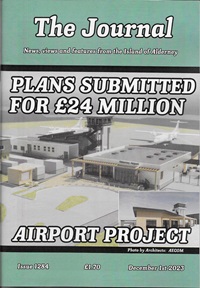 PLANS SUBMITTED FOR £24 MILLION AIRPORT PROJECT
Back Issues
Back issues
of the Journal are now available

The Guernsey Bereavement Service has made three visits to Alderney over the past few months and would like to continue to help you. We are visiting the island again on Tuesday, 12th November 2013 and would invite anyone who feels they would like Bereavement Counselling to telephone the Bereavement Service Office on 257778 to make a time to meet one of our counsellors.

What's on in Alderney

, ,

, ,
Journal all over the World

Great Wall photo wins picture prize
Things to do in Alderney
Contact details of Alderney Clubs and Societies