Alderney Week promises pure magic this summer
Posted Fri 4th July 2008 at 15:27

Alderney Week's programme of events is filling up fast and organisers are now appealing for helpers to ensure the annual event runs smoothly.

Alderney Week team leader Ronnie Cairnduff said: "We have an action-packed programme but, to pull it off, we need as many volunteers as possible to help organise or run these events.

"Alderney Week is a true community festival staged by the people of Alderney for the island's residents and visitors. We hope that, as in years gone by, many parents will get involved in children's events and give us an hour or two of their time to make it all happen."

A number of changes have been made to this year's schedule, due to a series of special events.

Mr Alderney will take place on August 1 and finish just hours before the official opening ceremony on August 2.

A Children's Fancy Dress and Sports Party will also be held on August 2 before the 60th Anniversary Barbecue and Disco takes place on the Butes.

The traditional church service and Pedal Kart Grand Prix will be held on August 3, a day before the Cavalcade.

A quiz for all the family will take place on August 5 and the Fun Run and Sand Castle Competition will be held on August 6.

Man-powered flights will take off on August 7, along with the Beach Olympics and Alderney's Got Talent.

The island's X-Factor show will entertain residents and visitors on August 9, as will the Man of Iron event and Daft Race Race. A Triathlon will also be held on the final Saturday, while the Street Market will take place on August 10.

Mr Cairnduff said: "There's definitely a wow factor and the good people of Alderney should prepare themselves for some real surprises.

"There are many competitions and events for people to get involved in but, as always, it's all about having fun."

Call 01481 824321 or visit www.alderneyweek.net for further information. The printed programme will be available later this month.
---
Next story: Lisa will 'transform' youth services
Previous story: Police show off alcohol seized from kids
Current issue 1283 - Nov 17th 2023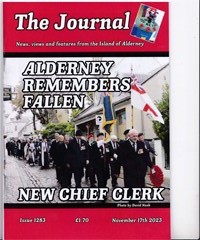 ALDERNEY REMEMBERS FALLEN
NEW CHIEF CLERK
Back Issues
Back issues
of the Journal are now available

The Guernsey Bereavement Service has made three visits to Alderney over the past few months and would like to continue to help you. We are visiting the island again on Tuesday, 12th November 2013 and would invite anyone who feels they would like Bereavement Counselling to telephone the Bereavement Service Office on 257778 to make a time to meet one of our counsellors.

What's on in Alderney

, ,

, ,
Journal all over the World

Great Wall photo wins picture prize
Things to do in Alderney
Contact details of Alderney Clubs and Societies