Stark warning to local businesses
Posted Fri 6th June 2008 at 08:00

Businesses in Alderney have been warned to expect tough times in the coming months.

Alderney Chamber of Commerce president Andrew Eggleston says the rising cost of oil and rates increases could lead to job losses or worse in the island.

Mr Eggleston (pictured) said: "Many businesses could suffer a downturn within the next year and that could mean they end up employing fewer staff, or worse.

"The two main reasons for this are the cost of oil and Alderney's rising rates."

Mr Eggleston called on the States to ignite Alderney's tourism industry and attract more people to live in the island.

He said: "To create more spending, the island needs more people. We need to attract more people to rent here and entice more tourists. The ever thinner rope that our economy balances on is crying out for perhaps 500 more residents, as well as a longer and more sustainable tourist season."

Mr Eggleston highlighted tourism as one of the Chamber's main concerns.

He said: "We are most concerned at the lack of tourists and forward bookings for the coming season, at a time when permission may soon be approved for a further hotel with more than 50 beds.

"This is obviously a major concern and we hope there are pro-active ideas in place or already being implemented to increase tourist numbers."

Mr Eggleston also questioned the number of tourists Alderney currently attracts.

"One question we have asked the States is how many people travelling to Alderney are actual tourists because without this figure we cannot see the full picture of what is really happening.

"Take out of the equation those who fly here regularly on business, those who travel back and forth on hospital visits and those who are second home owners and the number visiting the island as tourists reduces significantly."

Mr Eggleston also said the cost of flying to and from the island needs to be addressed.

"Both residents and tourists are aggrieved at the cost of air flights on and off the island. However, the carriers cannot always be held to blame. The passenger taxes, landing taxes and massive cost of Guernsey's new terminal are all adding to our fares - and this is States taxing.

"If we want to maintain drive and prosperity within the islands, could not both Guernsey and Alderney States help by granting a subsidy to these taxes at uncertain times?"

Mr Eggleston also called on the island to be cleaned up.

He said: "Alderney needs a spring clean. With another season almost upon us, it does not give a good impression of itself but we do have sympathy here. The works to both the commercial quay and main sewer are imperative. However, sand could be cleared from Braye Street on a regular basis."

Policy and Finance chairman Richard Willmott had not read the report when the Journal approached him for his views.

Mr Willmott's opinion will appear in the next issue of the Journal, which comes out on June 21.
---
Next story: Frank Dean: Water is Alderney's top priority
Current issue 1283 - Nov 17th 2023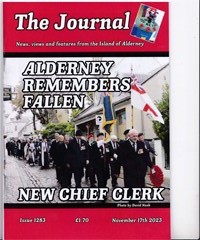 ALDERNEY REMEMBERS FALLEN
NEW CHIEF CLERK
Back Issues
Back issues
of the Journal are now available

The Guernsey Bereavement Service has made three visits to Alderney over the past few months and would like to continue to help you. We are visiting the island again on Tuesday, 12th November 2013 and would invite anyone who feels they would like Bereavement Counselling to telephone the Bereavement Service Office on 257778 to make a time to meet one of our counsellors.

What's on in Alderney

, ,

, ,
Journal all over the World

Great Wall photo wins picture prize
Things to do in Alderney
Contact details of Alderney Clubs and Societies