Back issues
1159-1155 | 1154-1150 | 1149-1145 | 1144-1140 | 1139-1135 | 1134-1130 | 1129-1125 | 1124-1120 | 1119-1115 | 1114-1110 | 1109-1105 | 1104-1100 | 1099-1095 | 1094-1090 | 1089-1085 | 1084-1080 | 1079-1075 | 1074-1070 | 1069-1065 | 1064-1060 | 1059-1055 | 1054-1050 | 1049-1045 | 1044-1040 | 1039-1035 | 1034-1030 | 1029-1025 | 1024-1020 | 1019-1015 | 1014-1010 | 1009-1005 | 1004-1000 | 999-995 | 994-990 | 989-985 | 984-980 | 979-975 | 974-970 | 969-965 | 964-960 | 959-955 | 954-950 | 949-945 | 944-940 | 939-935 | 934-930 | 929-925 | 924-920 | 919-915 | 914-910 | 909-905 | 904-900 | 899-895 | 894-890 | 889-885 | 884-880 | 879-875 | 874-870 | 869-865 | 864-860 |
(cover image not available)



---

(cover image not available)



---

Guernsey eyes up Alderney's e-gaming cash
Safety chief orders new harbour ladders are installed
Twelve residents enter election race
Import ban on ash trees?
Alderney's bid for Dark Skies status
Workers leaving Alderney, figures reveal




---

(cover image not available)



---

(cover image not available)



---
1159-1155 | 1154-1150 | 1149-1145 | 1144-1140 | 1139-1135 | 1134-1130 | 1129-1125 | 1124-1120 | 1119-1115 | 1114-1110 | 1109-1105 | 1104-1100 | 1099-1095 | 1094-1090 | 1089-1085 | 1084-1080 | 1079-1075 | 1074-1070 | 1069-1065 | 1064-1060 | 1059-1055 | 1054-1050 | 1049-1045 | 1044-1040 | 1039-1035 | 1034-1030 | 1029-1025 | 1024-1020 | 1019-1015 | 1014-1010 | 1009-1005 | 1004-1000 | 999-995 | 994-990 | 989-985 | 984-980 | 979-975 | 974-970 | 969-965 | 964-960 | 959-955 | 954-950 | 949-945 | 944-940 | 939-935 | 934-930 | 929-925 | 924-920 | 919-915 | 914-910 | 909-905 | 904-900 | 899-895 | 894-890 | 889-885 | 884-880 | 879-875 | 874-870 | 869-865 | 864-860 |
Current issue 1160 - Dec 14th 2018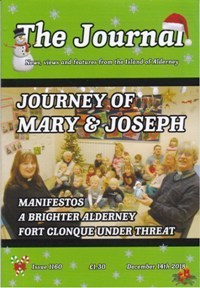 Manifestos for Plebiscite & By-Election on 17.12.18.
A Brighter Alderney by James Dent
Fort Clonque Under Threat due to lack of air seats available.
Back Issues
Back issues
of the Journal are now available

The Guernsey Bereavement Service has made three visits to Alderney over the past few months and would like to continue to help you. We are visiting the island again on Tuesday, 12th November 2013 and would invite anyone who feels they would like Bereavement Counselling to telephone the Bereavement Service Office on 257778 to make a time to meet one of our counsellors.

What's on in Alderney

, ,

, ,
Journal all over the World

Great Wall photo wins picture prize
Things to do in Alderney
Contact details of Alderney Clubs and Societies