Alderney mum highlights pregnancy travel stresses
Posted Fri 10th August 2018 at 11:19
An Alderney mother has highlighted the stresses that pregnant women from the Island undergo before giving birth because of transport "unreliability".
Guernsey agrees to split costs on Breakwater survey
Posted Fri 10th August 2018 at 11:18
70th Alderney Week was legendary

Posted Fri 10th August 2018 at 11:17

Dragons, unicorns, Greek goddesses, Arthurian Knights and mythical sea creatures converged on the streets of St Anne in a riot of colour for a magical 70th Alderney Week.
Fly In was a plane success
Posted Tue 3rd July 2018 at 13:50
Fifty two planes and around 100 visitors descended on Alderney for this year's Fly In - spending an estimated £35,000 during the event.
Victoria Street closure will be enforced
Posted Tue 3rd July 2018 at 13:49
Victoria Street will be closed to all traffic from 10am to 3pm daily for Alderney Week, bar a handful of exceptions.
Delayed departure to Jersey flights
Posted Tue 3rd July 2018 at 13:49
Population dipped in 2017
Posted Tue 3rd July 2018 at 13:49
The population dipped by 15 people last year bringing the total number of people on Alderney to 1,985.
water mill sheds its scaffolding
Posted Tue 3rd July 2018 at 13:48
The restored 13th century water mill is standing proudly free of scaffolding and is well worth a visit if you are near the Bonterre.
Current issue 1162 - Jan 25th 2019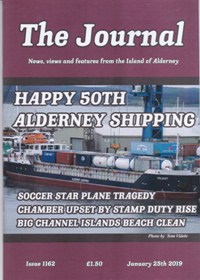 Happy 50th Alderney Shipping
Soccer Star Plane Tragedy
Chamber Upset by Stamp Duty Rise
Big Channel Islands Beach Clean
Back Issues
Back issues
of the Journal are now available

The Guernsey Bereavement Service has made three visits to Alderney over the past few months and would like to continue to help you. We are visiting the island again on Tuesday, 12th November 2013 and would invite anyone who feels they would like Bereavement Counselling to telephone the Bereavement Service Office on 257778 to make a time to meet one of our counsellors.

What's on in Alderney

, ,

, ,
Journal all over the World

Great Wall photo wins picture prize
Things to do in Alderney
Contact details of Alderney Clubs and Societies